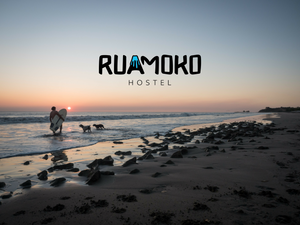 ROOMS
AT RUAMOKO HOSTEL, WE OFFER DORM ROOMS AND PRIVATE BUNGALOWS. THEY ARE BRAND NEW, LOOK GREAT AND YOU WILL GET A GOOD NIGHTS SLEEP FOR A GREAT PRICE
BOOK NOW
ACTIVITIES
RUAMOKO HOSTEL IS ABOUT HAVING A GREAT TIME. FROM WORLD CLASS SURFING TO FISHING, BEER PONG TO POOL PARTIES, HOT SPRINGS TO RELAX. DJ'S & MOVIE NIGHTS. YOU WILL FIND IT ALL AT RUAMOKO HOSTEL!
FOOD
OUR FOOD IS MADE FOR ONE REASON. TO TASTE AMAZING AND COST NEXT TO NOTHING. SO YOU CAN SPEND MORE MONEY ON WHAT REALLY MATTERS...BEER!
WHY US
WE BELIEVE CREATING UNFORGETTABLE EXPERIENCES ARE THEY KEY TO A GOOD TIME. SO WE PUT ALL OUR ENERGY INTO OFFERING THE BEST ROOMS, DELICIOUS FOOD AND BEST  ATMOSPHERE AROUND THAT ANYONE CAN AFFORD.
LOCATION TO PARADISE
Limon Dos, Tola, Rivas, Playa Santana, Nicaragua 
Calle Las Lajas, 800 meters before Playa Santana
Mon - Fri, 7am - 2am
Saturday, 7am - 2am
Sunday, 7am - 2am
GET DIRECTIONS